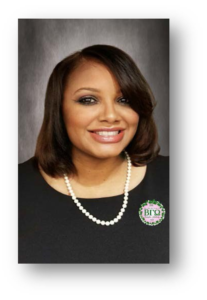 Greetings!
WELCOME to the official website of Alpha Kappa Alpha Sorority, Incorporated®, The Beta Gamma Omega Chapter, located in Lexington, KY.
I am honored, humbled and find it a privilege to serve as President of this Spectacular Chapter. Our vision and goal continue to be of Service to all mankind through Sisterhood and Service.
Our current international program theme is Soaring to Greater Heights of Service and Sisterhood, the 2022-2026 administration seeks to build upon Alpha Kappa Alpha Sorority's rich legacy of service by galvanizing our sisterhood of more than 120,000 active members to lead on the front lines of change, education, and advocacy as articulated by our International President, Danette Anthony Reed.
The program includes six initiatives: Strengthen Our Sisterhood will serve as the administration's "Foundation Initiative" as we strengthen our bonds to support our service mission. The remaining five initiatives will serve as the "Program Initiatives" which include: Empower Our Families, Build Our Economic Wealth, Enhance Our Environment, Advocate for Social Justice, and Uplift Our Local Community.
Beta Gamma Omega Chapter is supported by Pearls of Service KY established December 2012, our charitable arm, which funds all of our community service programs, projects and scholarships.
Beta Gamma Omega Chapter supervises three undergraduate chapters. Zeta Nu located on the campus of Eastern Kentucky University, Eta Rho located on the campus of Morehead State University and Iota Sigma located on the campus of University of Kentucky.
If you are a member of Alpha Kappa Alpha Sorority, Incorporated   in search of a chapter home, please consider visiting Beta Gamma Omega Chapter. Our chapter meetings are held on the third Saturday of each month. You can also find our upcoming events, activities, and programs on our Facebook and Instagram pages.
Your support is essential to the success of our ongoing efforts to provide service to our community. Please return often in order to keep abreast of our extraordinary service projects and fundraising events as we continue to stay committed to service!
Yours through Sisterhood and Service